Looking back to where 14DAYPILOT Flight Academy started and seeing where this flight academy stands now gives out an indescribable feeling. We never imagined having gone this far in this short amount of time. In the years since the beginning of 14DAYPILOT Flight Academy, we have accomplished a number of achievements, but first, let's take a trip down memory lane.
About 14DAYPILOT Flight Academy
14DAYPILOT Flight Academy is a Flight Training Provider or flight school based in Van Nuys, California. Founded in 2016 by Indonesian Pilot, Capt. Gema Merdeka Goeyardi, MM, CFI, CFII, MEII, IGI, CAT, CFTe, MFTA, CWM, CSA, CTA, 14DAYPILOT Flight Academy build its foundation on their accelerated programs. Aside from this, 14DAYPILOT Flight Academy provides maximum service to every candidate by creating a private course and appointing one plane and one Senior Instructor to each student. We intensively monitor your training progress every day and focus on the check ride preparation until you earn the pilot certificate. Least of all, we guarantee that our powerful e-learning system inside the membership area will guide you to pass the FAA oral exam check ride. In addition to this, the knowledge you will receive from our e-learning system may become helpful to you in the future. Proven as the industry leader for luxury accelerated flight training with NO HIDDEN FEE concept, our program is tailored for those who want to achieve their pilot rating in a short amount of time.
14DAYPILOT Flight Academy's achievements
It is with our utmost pride and joy to say that in the past 3 years we have been able to become the first and only flight academy in Asia that is approved as TSA Training Provider. This allows us to train foreign students. We have also passed the annual TSA inspection done in the USA with zero Finding! 14DAYPILOT Flight Academy is the only accelerated flight training academy that has got both the TSA and FAA's safety team approval in Asia.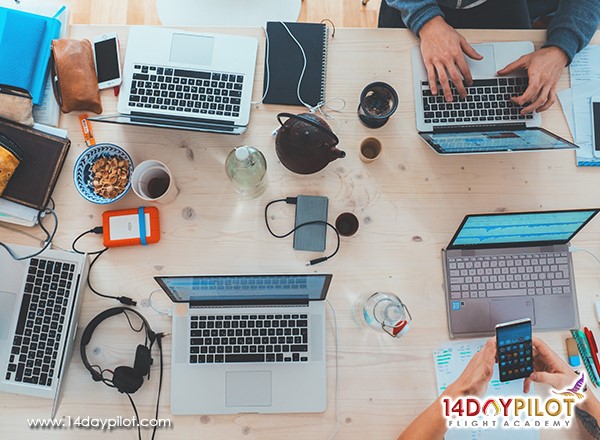 14DAYPILOT Flight Academy has also been approved and has been granted permission by Singapore CAAS to conduct training that would remove the restrictions that comes with the Private Pilot License (PPL). 14DAYPILOT Flight Academy is now Singapore's Civil Aviation partner that operates such training. By removing the restrictions, Singaporean pilots will now be able to fly for more than 50 nautical miles (nm). This is especially advantageous when pilots need to fly to an area over 50 nautical miles away from Singapore.
On November 2019, 14DAYPILOT has officially been supported by Yang Mulia Prime Minister Tun Dr. Mahathir Muhammad as a training provider for the first World Solo Flight done by a Malaysian disabled pilot. This achievement reserves a special place in our hearts as it proves that anyone can do anything and all dreams can be achieved. We are also proud to say that both 14DAYPILOT Flight Academy and our student, Farandi Angesti, received a MURI World Record each for the fastest commercial pilot training in the world, trained by 14DAYPILOT and done by Indonesian Pilot Farandi Angesti in under 115 days. 14DAYPILOT Flight Academy achieved the World Record for graduating the fastest Commercial Pilot License (CPL) student in within 115 days as an FAA Commercial Pilot with Instrument Rating. The norm would be for a CPL student to complete the course in 12 months, however, our student completed the course in under 4 months! With CPL, pilots will be able to have jobs in the flying sector of the aviation world.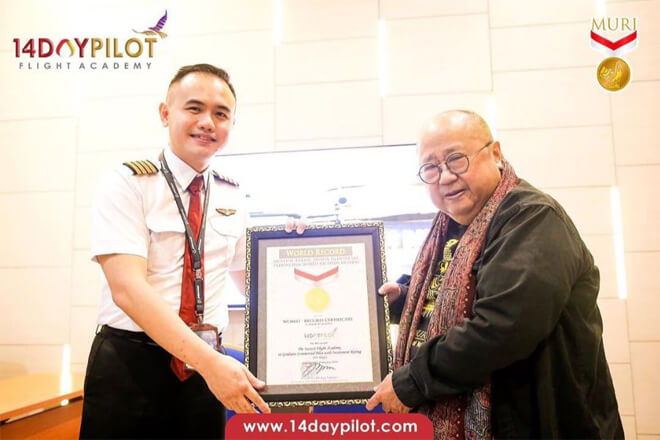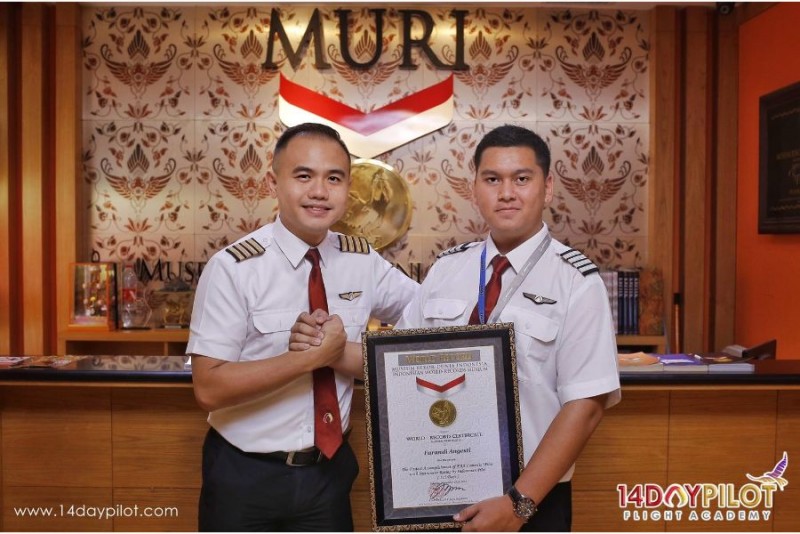 Another notable achievement of ours would be when 14DAYPILOT Flight Academy has been officially recognized as an Honorary Member of Seletar Flying Club (SFC), Singapore who has since become our partner for General Aviation in Singapore.
As we have said before, our flight academy is based upon its accelerated flight training which means that our students are able to complete their courses for the license they want to obtain in a shorter amount of time than usual. This is due to the fact that, as we have said previously, each student is appointed to a plane and a senior instructor. This greatly saves time as students are no longer required to share with one another, saving them their waiting time. Other than this, our programs are also flexible, hence, candidates are able to custom make their own syllabus - done via an interview prior to training, and also choose their flight training time that is suitable for them. We have found that this is helpful for those with demanding professions that have always had dreams of becoming a pilot since young.
After this trip down memory lane, we are proud to see what we have become and we would like to thank everyone for their undying support. We would also like to thank our students for all the hard work they have put in to make their dreams come true as their joy is our joy. Join 14DAYPILOT Flight Academy, make your dreams come true.