"Where there is a will, there is a way.", a commonly heard phrase that I am sure all of you are familiar with describes the Athira's journey towards the completion of her Instrument Rating course perfectly. I am sure you are all wondering "Who is Athira?", and "Why does that phrase describe her journey perfectly?". Well, you're about to find out!
Athira Farina Putri, an Indonesian Pilot, is well known in the aviation community as an Indonesian social influencer with over 300K followers. We are proud to say that Athira has chosen 14DAYPILOT Flight Academy as her guide throughout her training.
Athira is currently undergoing trainings to achieve her Instrument Rating, Commercial Pilot License, and Multi Engine Rating training with us, 14DAYPILOT Flight Academy. She has since completed her Instrument Rating course, however, this course did not come easily.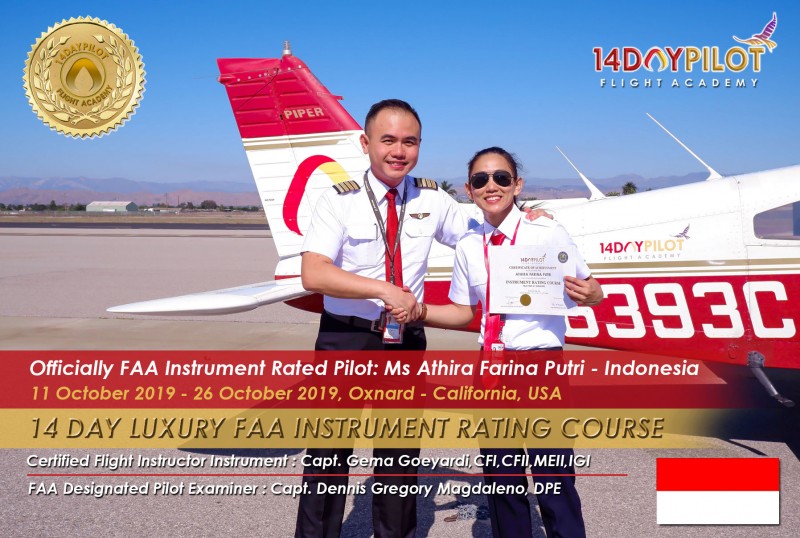 There were lots of obstacles in her way throughout her training and she had passed many stressful days. Despite of her struggles during her training, she refused to give up and kept on fighting for what she wanted to achieve.
Athira is a self-driven young lady who is strong and has a high mentality. In the beginning, she struggled with her Instrument Rating training as it had been a while since she flew a single engine aircraft. She had to adjust back to the basics.
She trained with us for some time, undergoing the training schedules that we have decided upon, and prepared her for the check-ride. Unfortunately, when the day of the check-ride finally came, Athira was not ready for the check-ride and her spirits took a huge blow.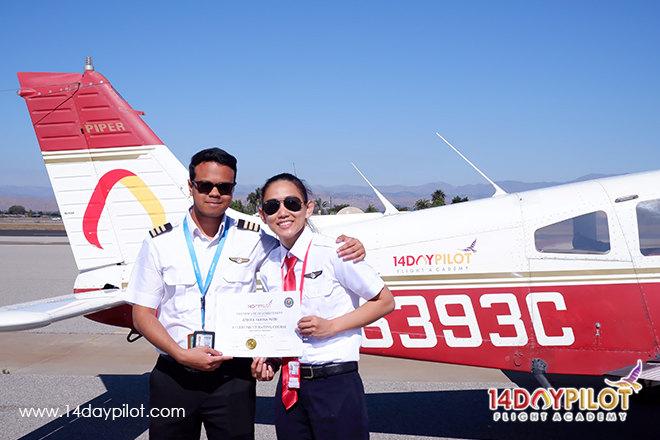 For a while, Athira cried and cried, with the feeling of wanting to give up, she lost all her confidence. Sooner or later, however, she recovered and she put in even more effort than she did before.
Athira worked relentlessly day after day. Flying for up to 4 hours every day, undergoing ground trainings till night time. Athira set herself a goal, to achieve 18 hours of daily study and she did not back down from it. She kept to her words and studied all day, all night until her next check-ride came.
This time, Athira was much more prepared. It could be seen in the way she walked that day and the way she talked. She was more confident than she was previously. This was the Athira we knew. She was back.
Of course, this story ends well. Athira succeeded in her check-ride. Her countless hours of studying and flight trainings were all worth it. On October 26th, 2019, Athira achieved her FAA Instrument Rating.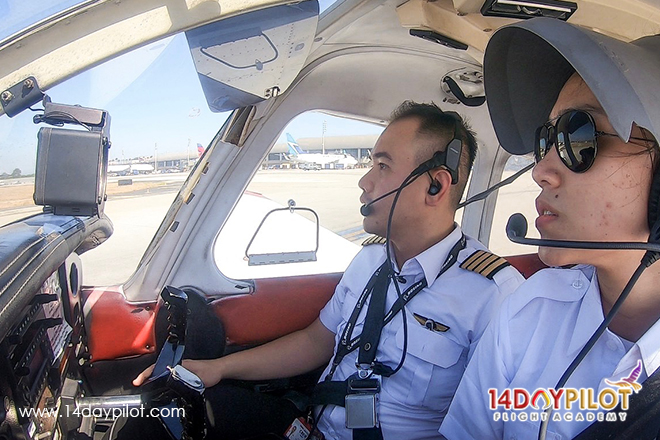 This journey of hers can hopefully come as an inspiration to all of you who reads this. She did not give up on her dreams, even when it seems like all is lost. Athira fought hard for what she wanted and achieved it. We know you can too.
Becoming a pilot isn't all fun and amazing, with all the travelling you can do and everything. Of course, those are the upsides of it, but to become a pilot you must first be prepared to undergo intense training. It isn't impossible. We have succeeded in creating a large number of pilots around the world.
Now, Athira will prepare for her next training, the Commercial Pilot License training. Good luck Athira, we believe in you!