Becoming a pilot has its struggles, but if a high school student could do it, so can you! We would like to share this story of our former student, Richard Pelafoe, who succeeded in achieving his pilot licenses and is now working to save people's lives! How cool is that?!
Richard Pelafoe, an Indonesian student who aspired to become a pilot, joined the 14DAYPILOT Flight Academy Airline Pilot Integrated Training (APIT) program in 2018. In fact, Richard was part of the first batch of our APIT program.
After intensive training in Indonesia for the preparation class, he and his batch flew to Los Angeles on 21st January 2018. The purpose of this was to begin their flight trainings as a student pilot in our USA headquarters.
Before we talk more of his journey, let's first go into details of what the APIT program really is. The Airline Pilot Integrated Training program, or APIT for short, is a program that will literally take you from zero to hero where you will graduate with a Commercial Pilot License - Instrument Rating within 115 days!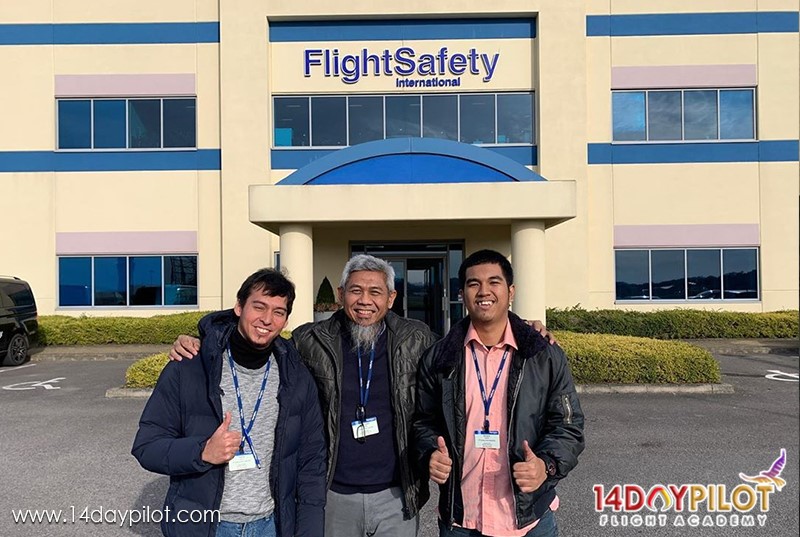 This program begins all the way from the basics and ends with you having the Private Pilot License (PPL) with Instrument Rating (IR) and Commercial Pilot License (CPL) with Multi Engine Rating (MER) alongside the Jet transition aviation course on a Boeing 737NG or an Airbus A320 familiarisation course.
It's not long, isn't it? It only takes you 115 days to make your dreams come true compared to the years of training you'll have to endure with traditional schools. With this in mind, you can surely become a pilot even with your tight schedule.
This is all made possible with the fact that each student will be flying for up to 6 hours daily with their own designated aircraft and senior instructor that's ready for use up to 8 hours, although, we recommend all students to fly for only 6 hours a day to maximize your efficiency.
With 14DAYPILOT Flight Academy's APIT program, you will be able to get up to 265 hours of flight time compared to 190-200 hours of flight time in traditional schools, all for the same price. This is due to the fact that we aim for you to fulfil the world standard requirement, not just the local regulation, which helps indefinitely during job hunting.
Aside from all this, we also prepare you for all your examinations thoroughly with the Pass Oral Exam System (POES) designed for your written and oral exam. POES is the preparation class that students undergo before beginning with their flight training in our Van Nuys Training Center that includes flight simulation trainings and mock exams.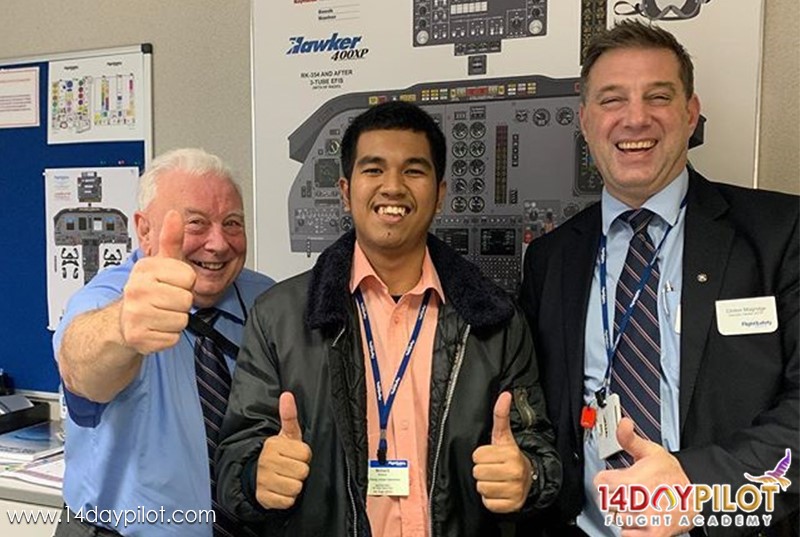 It can either be done online or in Indonesia, whichever suits you the most. We are proud to say that this system has proven to be successful with all our students achieving scores above 95%!
The APIT program is designed to train pilots for an airline career, in which Richard obtained a Commercial Pilot License with Multi Engine Rating and 265 hours of flight time at the end of his training.
Before starting with the flight training, Richard passed his PPL written exam with a remarkable score of 95% on 24th January, 2018. After passing his written exam, his instructor and Chief Pilot, Capt. Gema Goeyardi, CFI took him along for a flight in the Cessna Citation V Jet flying to Sacramento as a reward for his hard work.
Richard started flying on the 28th of January 2018 with his instructor, Capt. Gema Goeyardi, CFI using a Cessna 172. His parents also came to visit Richard in Van Nuys, and got the opportunity to sit in the backseat of Richard's flight.
After completing his APIT program within 120 days, Richard applied for a job in PT. Elang Indonesia in which his role as a pilot would be to transport patients from one place to another. He would be an unspoken hero!
He passed his Type Rating Checkride required as part of his job requirements in the United Kingdoms and will be flying the Beechjet 400A/XP! Good luck for your future endeavors, Richard. You have our full support!