There are countless of flight schools for getting Commercial Pilot Licenses, but which one can graduate student pilots within days? Generally, getting a Commercial Pilot License (CPL) takes between 9-12 months to complete, these are done in what we call traditional flight schools. However, 14DAYPILOT Flight Academy is able to graduate students with CPL within 5 days! How?
What is 14DAYPILOT Flight Academy?
If you haven't heard about us yet, 14DAYPILOT Flight Academy, LLC is a Flight Training Provider or Flight School based in Van Nuys, California. The academy builds its foundation on their accelerated programs. The 14DAYPILOT Flight Academy is the only approved Transport Security Administration (TSA) Provider in Asia. We intensively monitor your training progress every day and focus on the check ride preparation until you earn your pilot license.
With 14DAYPILOT you will be undergoing the Pass Oral Exam System (POES) course that would guide you to pass your oral and written examinations with flying colours. The POES course can be done either online or in Indonesia, which ever one is more suitable for you, and includes mock examinations and flight simulation trainings.
Our programs are tailored for busy individuals such as doctors, army captains, entrepreneurs, or even high school students, that are looking to achieve their dreams of becoming a pilot, but don't have ample time in their hands.
14DAYPILOT Flight School for your Commercial Pilot License
Getting a CPL in 14DAYPILOT flight school comes with a lot of benefits. One of them being that we train you to graduate with more flight hours than students from traditional flight schools as we aim for you to fulfil the world standard requirements instead of local regulations, which undoubtedly helps during job hunting.
Through 14DAYPILOT you will be completing your Commercial Pilot License within days. How is this possible, you may ask? This is due to the fact that 14DAYPILOT flight school is a Part 61 FAA flight school. Part 61 Pilot Schools exists when an approved FAA instructor trains a student and are responsible of regularly reporting to the FAA about each student undergoing training.
14DAYPILOT Flight Academy is a Part 61 Pilot School as we have numerous FAA approved instructors that are ready to train each student one-by-one. Part 61 Pilot Schools have a much more flexible training environment and schedule that would fit accordingly to the student's needs as the syllabus is custom made for each student and is done through an interview prior to the flight trainings.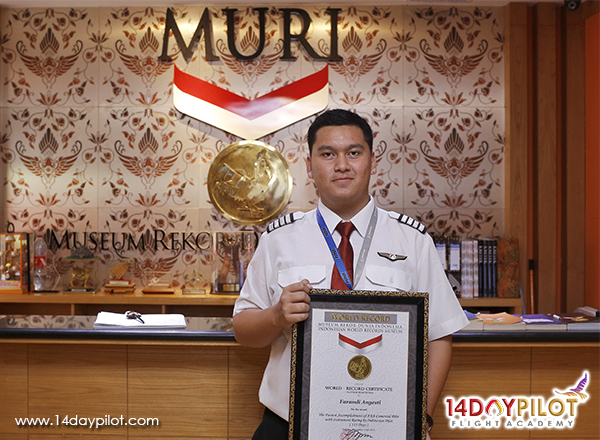 Students undergoing Commercial Pilot License flight trainings with 14DAYPILOT will also be assigned to their own designated aircrafts, which they will be flying for up to 6 hours every single day for 5 days with no rest, and senior instructor. This allows the students to build up their skills faster and prevents time-wasting due to waiting and sharing the aircraft with other students.
Upon completion of the 5 Day Commercial Pilot Program to obtain your Commercial Pilot License, you will be able to charge money for services and you are able to become a flight instructor. This license allows you to find a career in a Commercial Airline company, either domestic or international, charter companies, conduct sight seeing flights, and many more.
Having a pilot license does not mean you have to work in major commercial airline companies, even though this is what everyone thinks your job is once you tell people that you're training for your pilot's license.
With your pilot license you will be able to work as a sight seeing pilot or a photography pilot, Fire fighting pilot, Medical Emergency pilot, and so many more. You get to save lives through your job! Imagine that! You will become the unspoken hero.
Commercial Pilot License Flight school's requirements
Every flight school that has programs for Commercial Pilot Licenses requires all students to have had 250 flight hours prior to the check ride in order for you to be able to obtain your CPL along with the 300 NM PIC Cross Country flight which will all be done in your trainings. As all other aviation courses require, you need to have a Medical Third Class or better, Written Exam with a grade of 80% or above, Visa and TSA approval (for foreign students), be at least 18 years of age, and you must be fluent in English.
You must be holding a Private Pilot License (PPL) with Instrument Rating (IR) prior to training for your Commercial Pilot License as IR allows you to fly during low visibility scenarios using instruments to help you manoeuvre your way around the sky and land safely.
If you aren't a PPL with IR holder, you can take the Airline Pilot Integrated Program (APIT) with us, which is an aviation course that will literally take you from zero to Commercial Pilot in within 115 days as this program begins all the way from the basics and ends with you having the Private Pilot License (PPL) with Instrument Rating (IR) and Commercial Pilot License (CPL) with Multi Engine Rating (MER) alongside the Jet transition aviation course on a Boeing 737NG or an Airbus A320 familiarization course. In traditional flight schools, this would normally take years to complete.
A student of ours, Jiva Ananthan Viseikumaran, a Singaporean Army Captain, broke the world record in graduating CPL-IR within 80 days when the target was 115 days! This is proof that getting your pilot license within days is possible as long as you put in a little extra hard work and don't give up! The previous record holder was another student of ours, Farandi Angesti, who completed the program and graduated with CPL-IR within 110 days.