You might have heard about the 14 day Private Pilot flying lesson, but are you familiar with the other 4? 14DAYPILOT Flight Academy provides you with a range of flying lessons that would guide you to your dreams of becoming a pilot beginning with the Private Pilot License (PPL) up to obtaining your Commercial Pilot License or even become a Certificated Flight Instructor (CFI)
Why should you undergo flying lessons with 14DAYPILOT Flight Academy? Well, that's an easy one! 14DAYPILOT Flight Academy, LLC is a Flight Training Provider or Pilot School based in Van Nuys, California. The academy builds its foundation on their accelerated programs. 14DAYPILOT Flight Academy is the only approved Transport Security Administration (TSA) Provider in Asia! Which means that we are allowed to approve foreign students to train with us in USA
FLYING LESSON 1: PRIVATE PILOT LICENSE
One of the top most sought after licenses in the aviation world is the Private Pilot License (PPL) as this is the stepping stone towards a career in aviation, or for quick flights for lunch or personal leisure for example. The 14 Day Private Pilot Program with POES, Pass Oral Exam System, is a fast track program of, what is normally, a 5-month program to obtain a Private Pilot License. This program is perfect for busy individuals that has dreams of becoming a pilot, but hasn't got the time, as our program is followed by a string of flexibility. Whether you are a doctor, a businessman, an accountant, or even a high school student, whatever the profession, we will be able to accommodate our time according to your schedule and to your utmost comfort.
Prior to your flight training, you will be undergoing, and you are required to pass, your written examinations. Once you have passed and is approved by the TSA to start flying, we will begin preparing you for your first solo flight on the 6th day or earlier if possible. This depends greatly on how safely you land the aircraft and if you understand all the communication procedures that needs to be done. On the 12th day, you will be meeting your Designated Pilot Examiner (DPE) to make sure that everything is in place and on the right path for your check ride on the last day, the 14th day. There will be 2 examinations done, the Oral and Practical (flight) exams.
The Pass Oral Exam System, or POES for short, is a program specifically designed to train our students for their Oral and Written examinations that will be done in the USA. POES can be done either online or in Indonesia, which ever one is suitable for you. This is especially helpful for those who are unable to attend classes or would like to look back at the lectures as all the materials will be online for you. We are proud to say that POES has been proven to be 100% successful, with all our students achieving incredible scores.
FLYING LESSON 2: INSTRUMENT RATING
The Accelerated 10 Day Instrument Rating (IR) program allows pilots to have the freedom to fly whenever, including night time and reduced vision scenarios such as mildly bad weather conditions. Pilots that only know Visual Flight Rules (VFR) conditions are unable to fly during such times as they depend solely on their visuals but, without anything in the horizon, VFR pilots won't know where they are going. With IR, pilots can use both their visuals and the instruments of the aircraft. What use would your PPL be if you aren't able to fly whenever you want?
We have got a 10-part lesson plan for the IR program that can be fit according to your schedule. You will be mastering aviation weather theories, having a deeper understanding of the Instrument Landing system along with the correlated components, understanding IFR ATC radio telephony and IFR procedures, preparation classes for the exams, mock tests, and many, many more. This flying lesson comes with its own POES course that would boost your skills and knowledge to prepare you for the examinations.
FLYING LESSON 3: COMMERCIAL PILOT LICENSE
14DAYPILOT Flight Academy's 5 day Commercial Pilot License (CPL) Program trains you intensely to become a safe and proficient pilot. Upon completion, however, comes the fun part. Upon completion of the program, you will be eligible to charge money for services! An example to this would be becoming a tour pilot where you can get paid for flying deep-pocketed individuals or families around the city for joy-flights or tours to popular landmarks around USA.
The flying lessons of this program would polish your skills further and introduce new regulations that is required to be followed as the CPL comes with great responsibilities in order to avoid any major or minor accidents. Aside from all the seriousness, you will also be learning new maneuvers that you did not learn in PPL, however, this will be of great challenge as you must learn and master it in a short amount of time. Least of all, you will be allowed to fly for hire. You are now able to fly either in airlines or rent your services to fly smaller aircrafts for tourism. Along with this, you are also given the option to obtain the Certified Flight Instructor (CFI) license that allows you to become an instructor, as the name says.
FLYING LESSON 4: MULTI ENGINE RATING
With the 5 Day Multi Engine Rating (MER) Program, you will be able to fly aircrafts with more than one engine. This is crucial for those who are seeking a career as an Airline Pilot. With our program, you will be able to quickly master all that is required for your aviation career. 14DAYPILOT Flight Academy has provided an aircraft for you to use during trainings, Beechcraft Duchess Airplane with twin engine.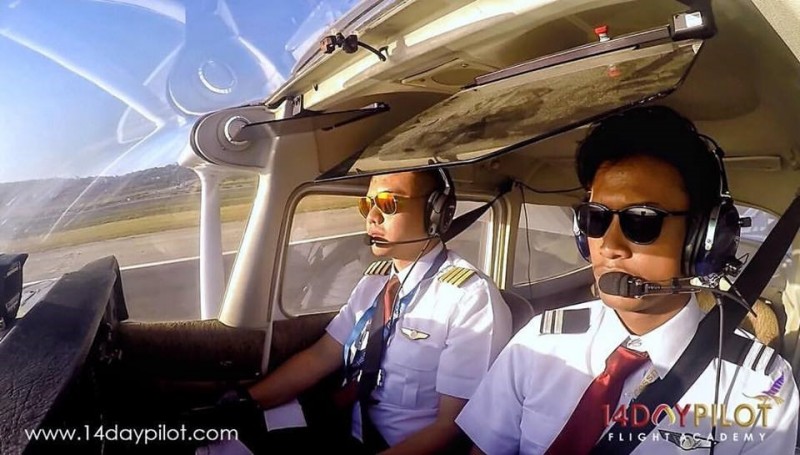 FLYING LESSON 5: CFI/CFII/MEI
The last flying lesson available in 14DAYPILOT Flight Academy is the CFI/CFII/MEI training course that would launch your career in the aviation world as an instructor. The Certified Flight Instructor (CFI) certificate allows you to train students. When certified by the FAA, you will be able to train students even without being associated to any flight academies. With the Certified Flight Instructor - Instrument and Multi Engine Instructor certificates, you will be handling the more advanced trainings for the more serious candidates.
By achieving your Certified Flight Instructor (CFI) certificate, you will be allowed to train students, however, you are only allowed to train students on Single Engine Aircrafts. You will also be given the responsibility of letting the FAA know whether a student is able to meet the requirements for a pilot license or not and whether or not the student should take the required exams. This program is offered as a 14 Day Accelerated Program that would help you to teach/train student pilots.
With all these flying lessons, how will you be able to obtain all the licenses in a short amount of time? With the Airline Pilot Integrated Training (APIT) course done by 14DAYPILOT Flight Academy, you will be able to complete all 4 programs within 115 days and become a certified Commercial Pilot! This is due to the fact that we assign you to your own designated aircraft and a senior instructor. We will also be intensively monitoring your training progress every day, focusing on the check ride preparation until you earn your pilot certificate. High-quality, quick, and affordable, how much better can it get? Join 14DAYPILOT Flight Academy and watch your dreams come true.